Welcome! Saint Gregory the Great's Youth Ministry events page is your starting point for finding a wide range of activities for youths to grow and explore their faith through service, worship, education, and of course fun!
Check back often as new events are updated frequently along with resources and links as they become available.
Contact: Suzanne Guzzardo • 858-653-3591 • sguzzardo@stgg.org
Air Band & Karaoke Drop-In Night
January 30, 2019 - 7:00 pm
Come sing your favorite song, perform as your favorite band and cheer everyone on while dancing your heart out!  Meet in the youth room.
Bring a friend!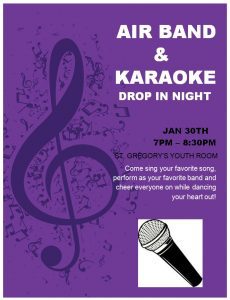 Youth Drop-In
Wednesday Evenings
Please join us for Youth Nights on scheduled Wednesday evenings from 7:00–8:30pm (during the summer, these may be off-site, check the calendar for dates).   Come and relax with friends, play games, sing songs, build community, and connect everyday living to God's plan for our lives. Follow our youth group activities on Instagram @stggcoreteam!
Bring a Friend!

Youth Adoration Nights
See Calendar
Come join the youth group from 7:00-8:00 pm on scheduled adoration days, as we participate in the parish's 24 Hours for the Lord (click here for dates). It is a journey into the Heart of Christ, our Redeemer.
Soft praise and worship music will accompany quiet prayer.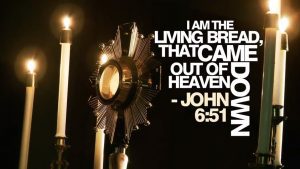 Youth Women's Bible Study
Wednesday 5:30 - 6:30 pm
Youth Women's Bible Study, Wednesdays
5:30-6:30 pm
All high school age women are invited to join a weekly Bible study each Wednesday night from 5:30-6: 30 pm starting September 5. This will be a chance to meditate on Scripture, talk about our struggles, joys, fears, and anxieties and encourage one another as we walk daily as disciples of Jesus. We will snack on popcorn (and other treats – bring a snack to share if you'd like!) as we personally connect with other women who are walking the same journey and we will open up God's Word to hear His voice speaking to us today. If you've been looking to deepen your faith and grow closer to other girls in the youth group, this is the night for you!
Contact:  Katherine Cavallo • 858-653-3583 • musicministry@stgg.org