"Vacation Bible School helps kids experience God's Word in surprising and unforgettable ways!"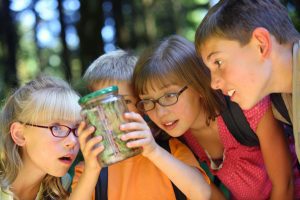 Vacation Bible School (VBS) is a ministry outreach program to educate children about God.  Participants enjoy a fun and faith-filled week held on the parish grounds with games, crafts, bible stories, singing, dancing and much more.  VBS is one of the greatest opportunities to reach all people, especially children, and preschoolers, and lead them to the Lord.  VBS is open to children who are PreK (age 3 and 4) through 5th grade (in the Fall). Registration is required.
For information on upcoming camps: please visit the links in the "more" section below.
Contact:  Ginger Marlin • 858-653-3594 • ff@stgg.org
Are you interested in forming the hearts and minds of future generations in the Catholic faith? Our parish religious education team relies on the dedicated and generous service of parishioners who serve as Catechists and volunteers. There are many ways you can help! For available opportunities and positions please click here, or contact the Faith Formation facilitators listed above.
Please note, the Diocese of San Diego is committed to providing a safe environment for all who worship, work, or participate in education and formation opportunities in our parishes and schools. All catechists and volunteers will be background checked and trained in compliance with the Charter for the Protection of Children and Young People.