The Rite of Christian Initiation of Adults is the process through which the Church reaches out and welcomes baptized and non-baptized adults into the Catholic Church.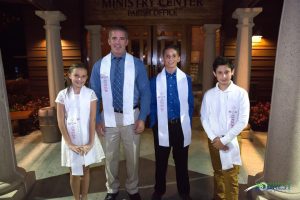 The Rite of Christian Initiation of Adults (RCIA) is the process through which interested adults and older children are introduced to the Catholic faith and a personal relationship with Jesus Christ. The RCIA process consists of reflection, prayer, instruction, discernment and formation. Weekly focus sessions, attendance at Sunday Mass, "Breaking Open the Word" discussion groups, and involvement in parish activities help participants prepare to receive the sacraments and full initiation into the church.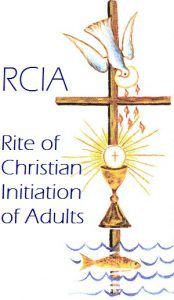 There are four phases in the RCIA. process:
Inquiry: Individuals (Inquirers) join in informal group discussions about the faith and the teachings of the church.
Catechumenate: Candidates for reception into the church learn and develop an understanding of Church teachings and the mystery of salvation.
Purification and Enlightenment: During the Lenten period the focus is personal reflection on religious experience and faith.
Mystagogy: This final period of initiation, the newly initiated experience being part of the Christian community.
Contact:  Deacon Ron Diem • 858-653-3582 • deaconron@stgg.org

Information Meetings
August 21 or 28, 2018, 7:00pm
Trinity Room
Do you, or someone you know, feel a calling to grow closer to God through His church?  Saint Gregory the Great welcomes new members and tries to provide appropriate spiritual formation according to each person's needs.  Some who come to us have had little or no affiliation with the Christian faith; others have been baptized and have been active members in other Christian traditions.  RCIA is one way this community attempts to share the good news about Jesus Christ to the world around us.
Please join our warm and welcoming team as you look at the Catholic way of life.  All are welcome to explore what is involved by joining RCIA for the upcoming 2016-2017 session.
For more information, please contact Deacon Ron: deaconron@stgg.org or 858-653-3582.
August

2020

Sun
Mon
Tue
Wed
Thu
Fri
Sat
Rite of Christian Initiation
Of Adults Adapted for Children
The Rite of Christian Initiation of Adults also applies to unbaptized children of catechetical age (generally seven years of age) as they are considered above the age of reason in regard to the sacraments of initiation. The RCIA process is adapted to meet the specific needs of children and leads to the celebration of the three sacraments of initiation: Baptism, Confirmation and First Eucharist.
For more information, including eligibility and meeting times, please contact the RCIA facilitator.