"And so I say to you, you are Peter, and upon this rock I will build my church, and the gates of the netherworld shall not prevail against it. I will give you the keys to the kingdom of heaven. Whatever you bind on earth shall be bound in heaven; and whatever you loose on earth shall be loosed in heaven."
Matthew 16:18-19
The Catholic Church is among the oldest institutions in the world and has played a prominent role in the history of Western civilization, inspiring art, architecture, culture, and philosophy.  The church was founded by Jesus Christ, the Son of God; its bishops are the successors of Christ's apostles, and the Bishop of Rome is the direct successor of Saint Peter.
The Catholic Church believes in a trinitarian God: Father, Son, and Holy Spirit, who are three persons in one God.  The Church defines its mission as spreading the Gospel of Jesus Christ, administering the sacraments, and exercising charity.
Our central form of worship is the sacrifice of the Mass when we celebrate the Word of God and the sacrament of the Eucharist.  We are one in our faith, holy in Christ, catholic in our universal beliefs, and apostolic in our lineage.
CATHOLIC RESOURCES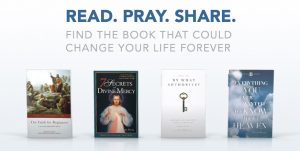 Augustine Institute specializes in promoting the Catholic Faith through high-quality audio CDs and booklets from many of the best Catholic resources.  The Augustine Institute kiosk is located in the parish office tower and features a handsome selection of media.  Proceeds from donations support the parish.
For questions, please contact Joan Pernicano • 858-271-6727 jwpern@gmail.com
THE POPE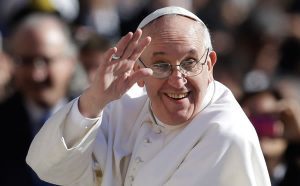 The Catholic church recognizes Peter as the rock on which Jesus declared he would build his Church.  He is considered the first Pope.  Peter was martyred in Rome sometime around 67 AD, yet his office continues today through the direct succession of Popes in subsequent generations of the Church.
Pope Francis was elected in the spring of 2013 and is the current leader of the worldwide Catholic church.  Directly serving the Pope is the Roman Curia, the central governing body that administers the day-to-day business of the Catholic Church.
To read more about Pope Francis, click here.