He took the bread, said the blessing, broke it, and gave it to them, saying, "This is my body, which will be given for you; do this in memory of me."
Luke 22:19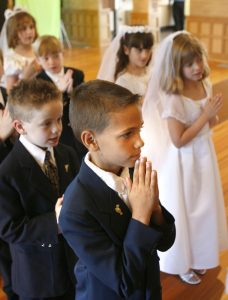 The preparation for First Eucharist, and First Reconciliation, occurs during the second year of Faith Formation, provided that the child is in the second grade or higher.  Concurrent enrollment in both Sacramental Preparation and Faith Formation is required.  Click here for more information regarding Faith Formation.
First Eucharist:
Before preparing to receive Jesus Christ in the Eucharist, children must first come to know and love Him at an age-appropriate level.  Baptized children, who have completed one year of religious education, can begin preparing to receive their First Eucharist in the second grade.  The process includes guided instructional sessions and home study materials.
First Reconciliation:
All the faithful are obliged to approach the Altar of the Lord only if they are reconciled with God and Church.  It is customary that a child preparing for First Eucharist also prepare and celebrate the Sacrament of Reconciliation/Penance before receiving the Eucharist for the first time.
Contact:  Ginger Marlin • 858-653-3594 • ff@stgg.org
Registration:
Please visit the parish office, or click here to register online.
Fees:
Sacramental Preparation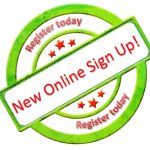 $80 for each child (Includes: First
Reconciliation and First Eucharist)
Faith Formation
Please click here for more information.
Requirements:
1. Certificate of Baptism
Student must provide a copy of the baptismal certificate if baptized somewhere other than Saint Gregory the Great.
2. Age and Grade of Eligibility
Student must be at least seven years old and in the 2nd grade or higher.
3. Religious Education
Student must have attended religious education the previous year, and be currently enrolled in both Faith Formation and Sacramental Preparation.
Note: No family is ever denied religious education due to an inability to pay. Please contact the Catechetical ministry facilitators for special consideration.
Weekly Mass:
It is expected that parents and children will celebrate weekly Mass together. Attendance at Mass is an integral and essential part of the formation of each child's faith.
Faith Formation Sessions:
Children are expected to be on time and consistent in attendance. Consistent tardiness is not only disruptive, but disrespectful to the teacher (Catechist) and to the other students.
Absences:
Parents are to notify the Catechist if their child will be absent. Absences will be considered excused only when make-up materials have been completed and turned in to the teacher.
Parent Meetings:
Parent meetings, workshops, and rehearsals are mandatory. Both parents are encouraged to attend. Dates and further details to be announced.